Use Smokeball Billing or Start to record deposited funds for your client's trust account.
Record deposited funds
Open the matter that you wish to make a trust deposit for, then select the Transactions tab.

Select Deposit Funds from the Trust Account view.

From the Deposit Funds window, enter the following details:

Date deposited – this is the date the trust monies were received.
Account – by default this is Trust.
Received from – this defaults to the client. You can change this by selecting the x and typing in the name of the party who paid.

If the party is a contact in Smokeball, select them from the dropdown menu.
If the party does not exist in Smokeball, select the + and save their details.

Amount deposited – check the Available After Deposit field matches your own records for this trust account.
Payment Type – select Bank Transfer, Cash, Cheque or Credit Card.
Payment Reference – this field will be greyed out if references are set to automatically generate.
Reason – why the trust monies are held in the trust account.
Internal note – further information that's outside of the audit required reason.

Tick Open PDF receipt now if you wish to print or save the deposit receipt immediately.


Select Process. If you ticked Open PDF receipt now, the trust account receipt will open up in your browser's PDF reader.
View all trust account deposits
The Trust Account section in the Transactions tab of a matter will list all trust account transactions, including trust deposits.
Trust deposits will be denoted as Bank transfer deposit in the Description column, along with the reason entered into the deposit.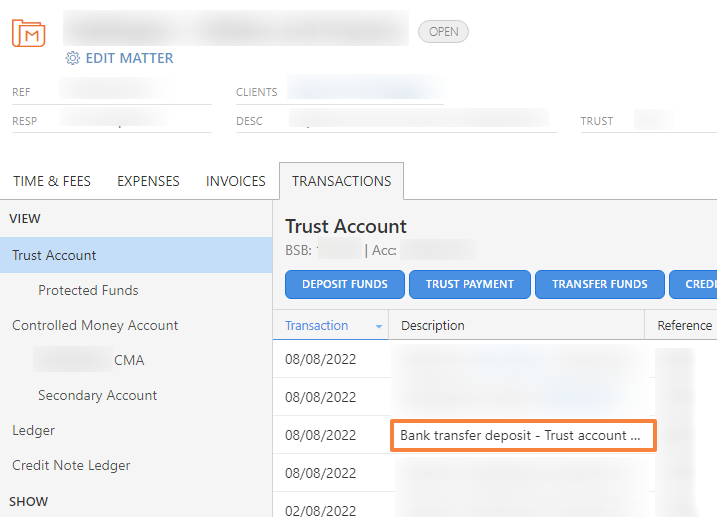 Next steps
After recording cash or cheque trust deposits in Smokeball, you may wish to generate a deposit slip to easily keep records of the funds that have been presented to your bank.
Recorded a deposit by accident, or need to edit the deposit? Learn how to reverse it.