AutoTime uses all the potent information captured by Activity Intelligence to make billing easier than it ever has.
AutoTime will help you spend less time tracking time contemporaneously or returning to remember everything you did - Never manually track time again!
AutoTime users bill 10-30% more since you'll be tracking more time in Smokeball.
With the help of Firm Insights, Smokeball can take your practice to the next level.
How AutoTime Works
As your work, Activity Intelligence tracks time spent on Matter Administration, Events, Documents, Emails, Communicate, Memos, Ring Central Calls, and Tasks.
Every night, AutoTime will take all your recorded activities in Activity Intelligence and automatically create time entries for you.
AutoTime settings can be customized on a user level under Staff & Users. Review Enable AutoTime for more information on these settings.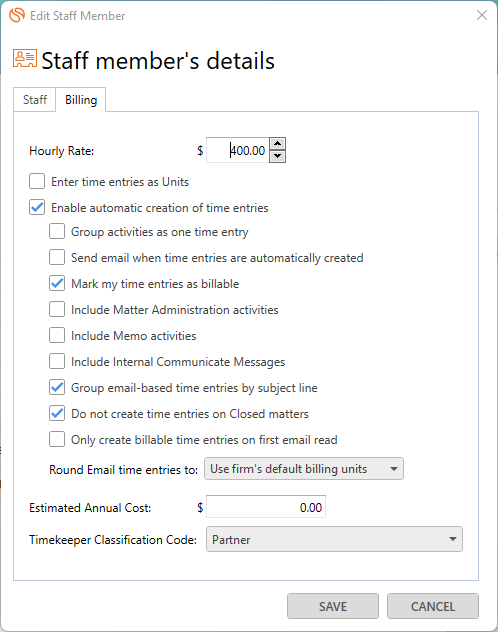 All AutoTime entries can be edited in real-time through "pending entries" or prior to creating an invoice.

As a result, all your time entries will be ready and available to invoice. AutoTime users spend less time manually tracking time and trying to remember everything they did
AutoTime works with Firm Insights to give you helpful profitability time.

Whether you bill based on time, a fixed fee, or contingency, AutoTime can be a powerful tool for your practice.
Not sure if you are not tracking enough time? Discounting too much on invoices? Not collecting payments from clients? Firm Insights can help.
Did you know...
AutoTime users receive an email as soon as their AutoTime run has been completed. The email will be sorted by matter including the entry duration and amount.
AutoTime entries can be edited and modified before sending an invoice to a client. You can edit the date, description, duration, rate, and amount. Note: these updates will not be reflected in Activity Intelligence and only in the time entry.
AutoTime entries can be deleted
AutoTime entries are NOT automatically billed
AutoTime will run every night and create a time/fee entry for all activities performed the previous day. You can manually run AutoTime for any activities not previously recorded from the Smokeball Home Screen