Smokeball Start has a robust set of settings to help with all aspects of the billing cycle. If you are new to Smokeball Start, make sure to configure your settings before using all the features available to you. You must review Invoice Settings before you can create your first invoice.
This article walks through a high-level overview of all the settings in Smokeball Start. Some features require additional configuration covered in additional articles.
How to find Firm Settings
On the top right of Smokeball Start, click the gear to access your settings.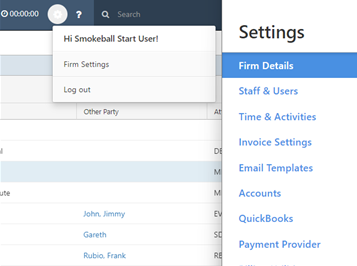 Types of settings
| | |
| --- | --- |
| Firm Details | Firm Details is the basic information of your law firm including firm name, contact numbers, and addresses. This information is used to automatically fill in the fields used in email templates. |
| Staff & Users | Staff & Users in Smokeball Start Settings allow you to add new users and edit the information of existing users in your firm, such as the default billing rate. |
| Time & Activities | From Time & Activities, you can change your billing units, create activity codes, or set up LEDES/UTBMS Billing. Learn more about Activity Codes or Set up LEDES/UTBMS. |
| Invoice Settings | Set up your invoice layout including adding your firm logo, default payment due dates, and all the options you want to appear on your invoices. You can also create Invoice Templates for different areas of law or billing types. Learn more about Invoice Settings and Invoice Templates. |
| Email Templates | Review and edit any Email Templates in Smokeball Start, including templates used for Invoices, Invoice Reminders, and Evergreen Retainers. Learn more about Evergreen Retainer and Set up Invoice Reminders. |
| Accounts | Set up your trust account settings for payment receipts, check printing, evergreen retainer, transaction numbering, and bulk finalizing payments. Select the individual links for more information on each feature and setting. |
| QuickBooks | Smokeball Start integrates with QuickBooks Online for your accounting system, back-office, and general ledger. Learn more about how to configure and integrate with QuickBooks online. |
| Payment Provider | Smokeball Start integrates with LawPay, allowing your clients to pay their invoices with credit cards or accept trust deposits online. LawPay is the go-to credit card processing company for law firms. Learn more about how to set up and use Smokeball's LawPay integration. |