Learn how to help your clients set up Communicate on their web browser or mobile device to begin easily & securely interacting with your law firm.
Your clients can log into Communicate on a web browser at any time or from the Communicate mobile app.
Entering Communicate for the first time
The first time you send your client (or any non-Smokeball user) a Communicate message, they will receive an email to open Communicate.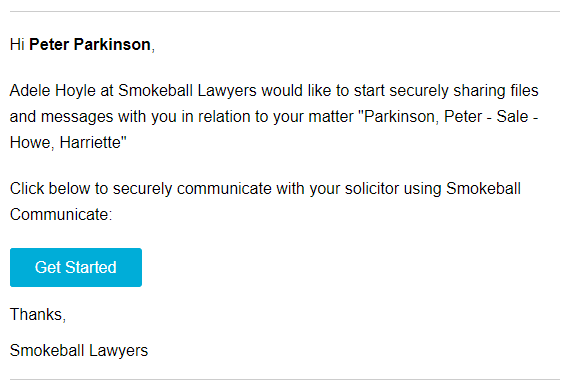 Once they click on the Get Started button, they will be taken to a web version of Communicate in their web browser.
As a first-time Communicate user, your client will be required to authenticate their email address with two-factor authentication.
Returning to Communicate
When you or a team member in your law firm send a message to your client, they will receive an email to View message.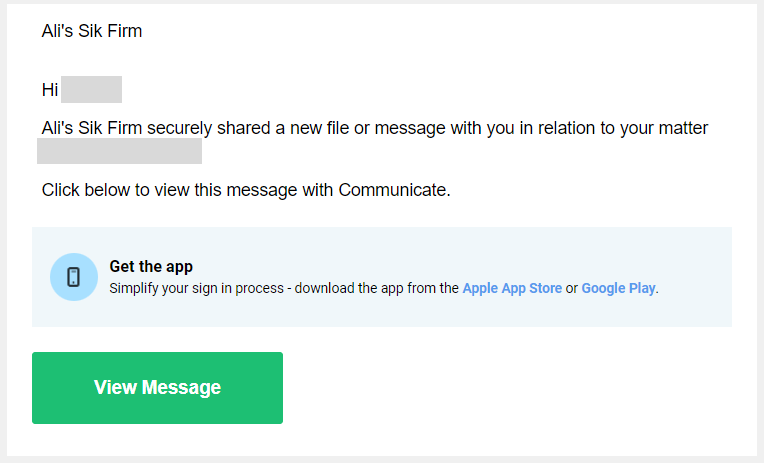 To action on this message in Communicate, your client needs to select the View message link, which should automatically take them straight into the conversation.
If the client is accessing a new conversation, they may need to enter their authentication code to access it.
Once your client has logged in, they are able to:
Select the conversation to review
Quickly toggle between the message history or files only
Review individual messages and/or attachments.
Respond to messages and attach files.
Understanding Communicate notifications
When new messages are sent, an email notification will be sent. However, if you're communicating 'live' with your client and they are still in their browser or mobile app, they won't get an email. An email is only sent when a message is unread for a period of 10 minutes.
On the Communicate Mobile App, an additional notification will also be sent:
Log in to review the message and/or shared file(s).