Smokeball's integration with Outlook allows you to send emails from and save attachments to your matter.
Send an email from Smokeball
Open a matter and select Email from the Matter tab.
Select Add next to the parties and/or staff that you're addressing the email to.


You can also add CC and BCC email addresses by selecting the fields at the bottom of the window.


Select Next.
The Outlook app will open on your desktop.

Follow the prompts in Outlook to connect your Outlook account to Smokeball.
Once you're set up, another window will open with a blank email that has the To, CC and BCC fields already pre-filled.

Compose your email and attach documents if needed. Use the Smokeball matter bar at the bottom of the email window to action Smokeball-specific tasks:

View the details of the matter directly from Outlook by selecting View Matter.
Attaching a document from Smokeball? Select Attach to easily find and attach it to your email.
Add more email addresses by selecting Send To, which will bring up the list of parties and staff to select from.


When you're ready to send, select Send. The contents of the email will be recorded in Smokeball.

View all email communications for a matter
You can access all emails sent from Smokeball regarding a matter by navigating to the Emails tab within the matter.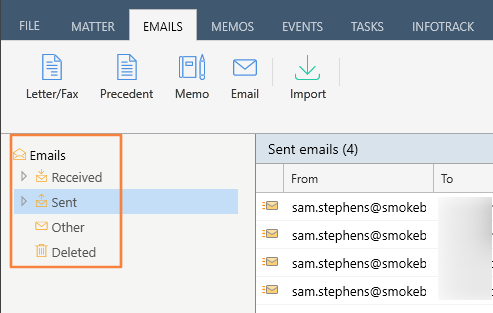 Select the arrows next to the categories to show emails sent or received from a specific email address.
Save emails to Smokeball
With the Smokeball to Outlook integration, you'll see a Smokeball search bar at the bottom of emails, allowing you to browse for a matter to save the email to. To save the email:
Open the email in Outlook, then select Browse from the Smokeball search bar.

Select the matter to save the email to. If there's attachments you wish to save as well, tick the box next to the attachment name.

Select OK.
The email will now appear in the Received category in the Email tab of the matter.

The email and associated attachments will also be viewable from the Documents section.

Save multiple emails
You can save multiple emails to a matter from Outlook:
In Outlook, hold the Ctrl or Shift key while selecting multiple emails.
Right-click on one of the emails and select Smokeball – associate emails with matter.

Select the matter and tick the attachments you wish to save. Then, select OK.
Next steps
Once you've learned how to send emails from Smokeball, learn how to send emails from Microsoft Word, or set up email containers to automate emails.