One of Smokeball's unique tools is the ability to keep track of every completed activity.
Activity is similar to having a pedometer that helps you remember everything you are doing throughout the day including events, tasks, documents, emails, memos, and even matter administration.
Use Activity to prevent missing any potential billable time for Smokeball Billing and understand firm profitability in Firm Insights.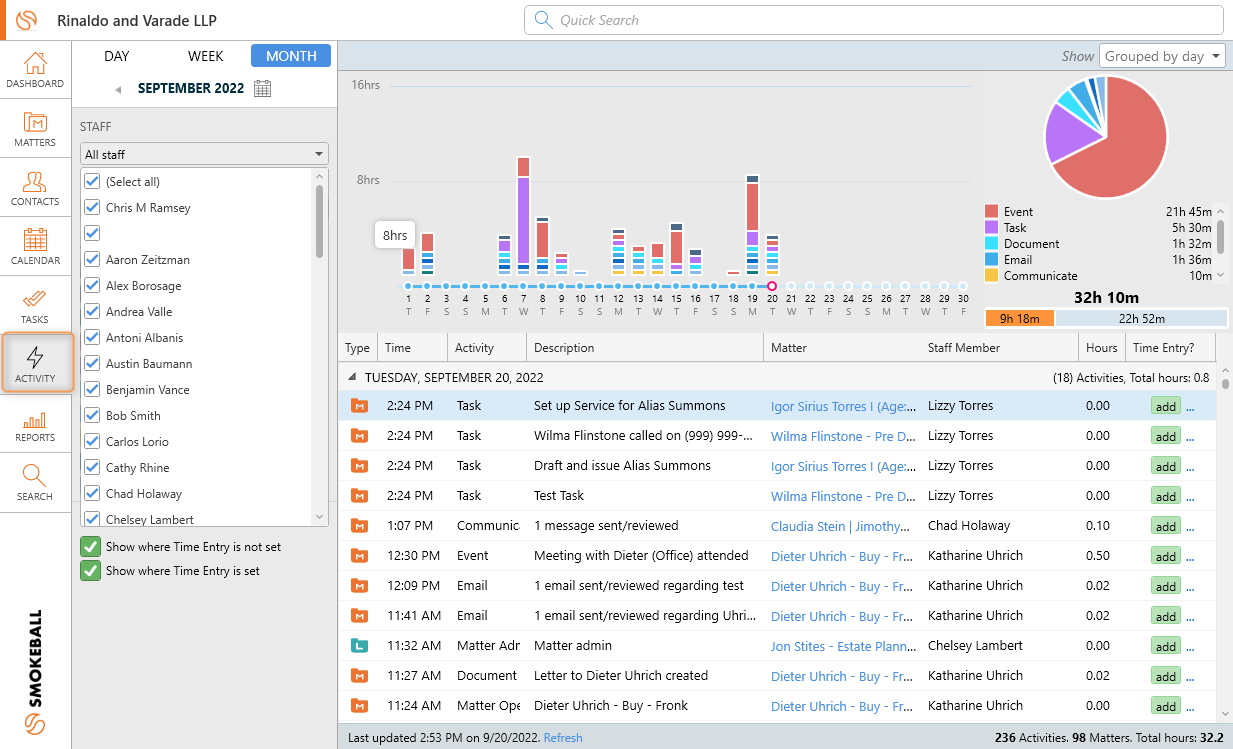 How to Add an Activity
You can create an activity from the home screen or with a matter by selecting the Activity button.

Select the date, staff, duration, and assign the appropriate matter for the activity
Enter details of what you want to appear on Activity and Save.

The activity will appear in Activity as a task.
How Activity Duration is Tracked:
Activity Type

Description

Billing Increments

Activity

Use the activity button to manually add any activity that Smokeball does not automatically capture.

Manual

Communicate

Time will be automatically recorded when a user spends at least 30 seconds reviewing messages, sending messages, or reviewing a document in Communicate.

When a user reviews a document, there will be an activity entry for both the Communicate time and Document review.

6 minutes

Document

When a Word, Excel, or PDF document is created, edited, or opened for review, the activity item will be created.

6 minutes

Email

Email activity is captured from the preview pane or when a message is popped out in Outlook. Smokeball will also track email activity when reviewing emails in an email tab in a matter.

AutoTime users can choose to have these messages grouped by subject line or one entry for the matter that includes all emails.

Emails reviewed for a minimum of 10 seconds are recorded as activity. If an email is reviewed again within a 10-minute window, the accumulated time will be applied.

1 minute

Event

Calendar events in Smokeball that occurred in the past are shown as activity items.

Manual Entry of the Event Duration

File Preview

Time recorded is reviewing any file in File Preview for more than 30 seconds. All File Preview entries will be entered as a document.

6 minutes

Matter Administration

Anytime the matter window is opened and data entry is performed in any field under Matter details, an activity will be created.

6 minutes

Memo

When a new memo is saved to a matter, the activity item will be created.

Manual Entry

Ring Central Phone Calls

Ring Central calls are recorded for incoming and outgoing calls for users using RingCentral integration. RingCentral calls will be logged as tasks in Activity.

If a phone number is associated with a contact and matter, this task will automatically be added to the matter.

If the phone number is not associated, the call will still be logged. Users can assign the activity to a matter based on the caller ID information.

6 minutes

Task

Task activities are created when a user completes a task. This happens whether the task is completed from the task list, daily digest, or mobile app.

Manual Entry
Did You Know
Smokeball users that use Activity for Billing see an increase in profitability of 10-30%+ versus manual billing only.
If you need more information on how to use Activity or bill more efficiently with Smokeball, reach out to your Account Manager.
Additional Resources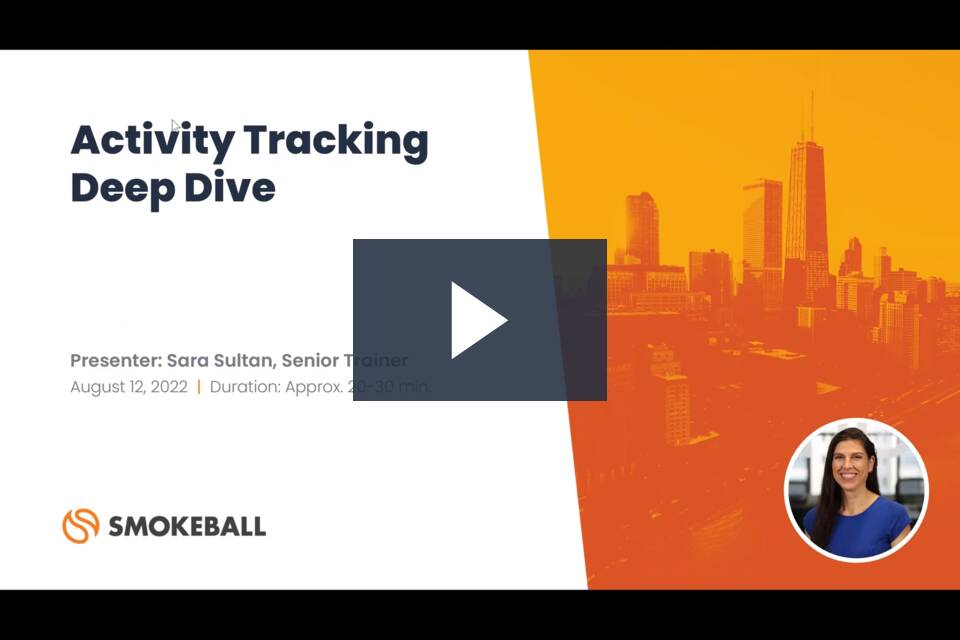 Webinar - On Demand - Activity Tracking Deep Dive - Smokeball