Smokeball provides you with the ability to Favourite a document in your matter so you can locate it easily time and time again.
There is no limit to the number of documents you can set to Favourite.
Marking a document as Favourite
You can select/unselect a document as a Favourite in two ways:
Hover over the document and click the star.
Right-click on the document and select Add to Favourites from the menu.
Identifying Favourited Documents
You can identify a favourite document as it will have a yellow star in the corner of the document icon and when you hover over a document, the yellow start to the right side will light up.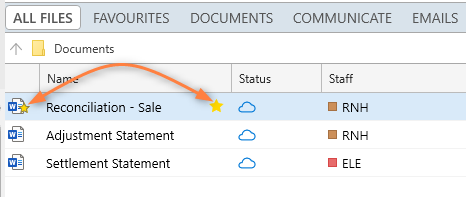 Filter for favourite documents
To view only your favourite documents in a list, select the new Favourites filter.

Additional tips:
Changes to document favourites will show in the matter file and document history.
Favourited documents are firm-wide.
No impact to filtering the document list (i.e. favourites will not filter separately).