Download and install the Communicate Client Portal mobile app from the Apple App Store or Google Play Store.
Open the app and select Sign in.

If you are a Smokeball user, select "sign in with Smokeball" and log in using your Smokeball login credentials.
Non-Smokeball users will need to follow the steps to verify their identity with their email and phone number for log-in access.
Update your login preferences
To make logging in more secure, select the three dots on the top-right corner of the app to access Security, where you can enable passcode lock, Face ID, or fingerprint login.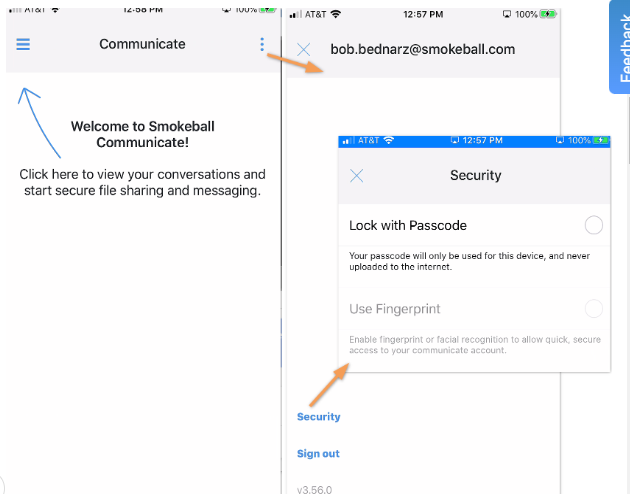 Manage conversations
Select the three lines on the top-left of the app to access conversations.
Select the conversation to review, or select the + icon next to Direct Messages (if you're a Smokeball user) to start a new conversation.
To reply to a message, type in your response in the message box and select Send.
To add files and attachments from your mobile device, select the paperclip icon.
Notes:
The mobile app includes conversations from all Channels, Direct Messages, External Conversations, Internal Matter Conversations, and your Firm Inbox from external Smokeball users.
If you want to share Smokeball files, use the Smokeball Desktop Application.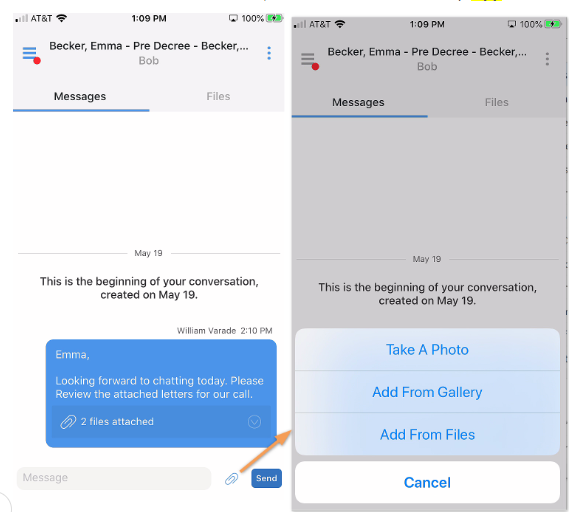 View shared files
From within a conversation, select the Files tab at the top of the screen.
A list of files shared in the conversation will appear. Select the file to access a quick preview, or select the message icon to add a comment to the file.
Set up reminders from within a conversation
Select the conversation you want to set a reminder for.
Select and hold any message, then select Remind Me.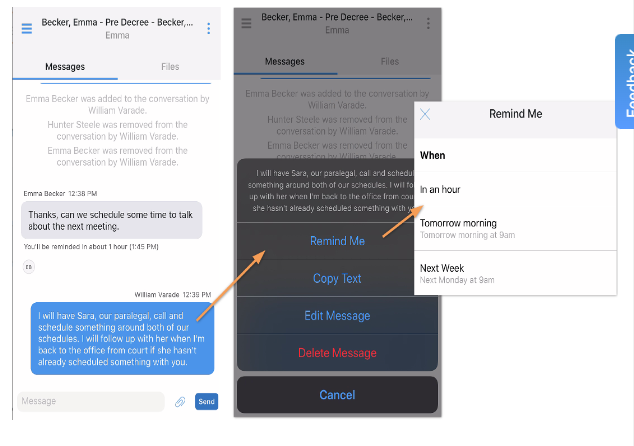 Next Steps
Once you've set up the Communicate Client Portal on your mobile device, learn how to get your client set up with the portal or use the client portal to send SMS text messages from within the Smokeball desktop app (if you're a Smokeball user).