Ensure all important documents, emails, and tasks associated with a client are all stored in one place using matters.
Matters are Smokeball's answer to the paper file, but accessible from anywhere.
Depending on the matter type you select, relevant fields are already curated for you, so you can start entering important details immediately.
You can create matters from the Smokeball desktop app, or from Smokeball Billing. Matters created in one place are viewable from both.
Create a new matter from the Smokeball desktop app
From the Smokeball tab, select New Matter.
Select the State from the dropdown menu, then expand the folder with the relevant area of law and select the appropriate matter type.

If you are unsure which matter type to use for a specific matter, reach out to your account manager or view our Area of Law Practice Centre for additional best practices.

Select Create (or Next, depending on the matter type).


Smokeball will open the matter on its own window, differentiated from the main Smokeball app by a dark blue coloured banner at the top.

Customise parties and data to the matter
After creating a new matter, you can show or hide relevant parties and data required in the matter. This ensures only the most important fields are visible.
To customise parties and data to the matter:
Open the matter in Smokeball, then select the gear icon on the top-right corner of the matter window to open the Matter Settings.

In the Parties & Data tab, untick the parties that are not required in the matter.
To add contacts not specified in this list, tick Additional Contact.
Select Save.
Add matter details
The Matter Details section is where you enter all relevant data about the matter. Double-click each line item to open a new window with more information to complete.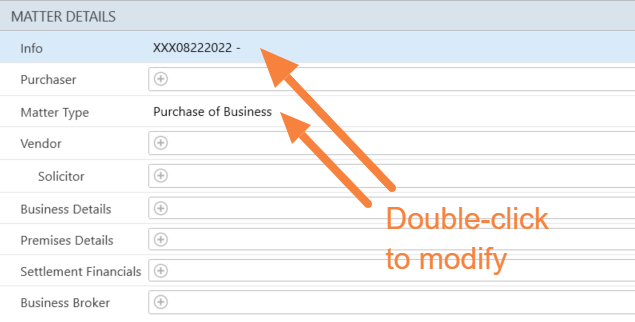 Note that some windows have multiple tabs of data:

The best practice is to fill in as many of the matter details as possible upon creating the matter, but you can always come back to the matter window to fill this in later.
The minimum data required to save a matter is a Matter Number located in the Info row, and the Client's Name (the row underneath the matter number).
Next steps
After you've created your first matter, consider adding frequently used matter types to your favourites, or create new matter templates to save time entering matter details.