The objective of your first training is to help you migrate matters into Smokeball and start using all the core productivity features.
During your basics training, you will learn how to:
Navigate around Smokeball
Create matters, including importing existing files and folders
Create letters, captions, and begin using the Forms & Templates Library
Manage your emails in Smokeball
Once you have learned the basics, review Foundations: Essentials for an overview of advanced features to take your firm to the next level.
---
Basic Navigation
Smokeball is a powerful, yet intuitive program designed to help you run your practice from start to finish. Learn more about navigating through Smokeball.
Once you log into Smokeball, it is easy to get to anything you need from the Dashboard:
File, Smokeball, Communicate Time & Expenses, Firm Insights, Community, and Support Tabs
Action Bar buttons
Matters, Contacts, Calendar, Tasks, Activity, Reports, Search
Dashboard Options
Dashboard Widgets
Search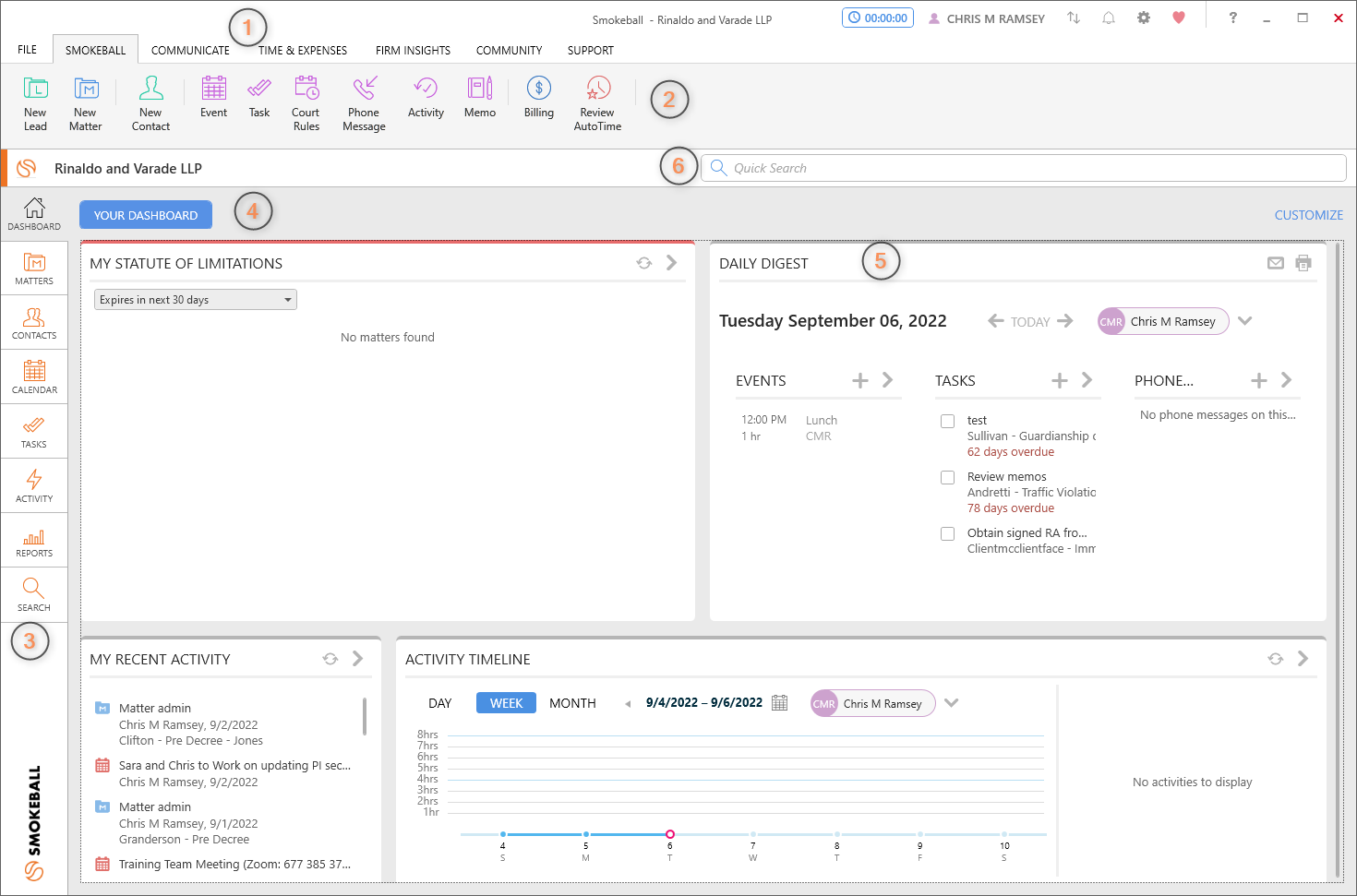 ---
Creating Matters and Migrating to Smokeball
Once Smokeball is configured, you are ready to create matters and get everything you need into one place. It only takes a couple minutes to start using this key feature.
Use Matter Type Favorites or Templates to create Matters.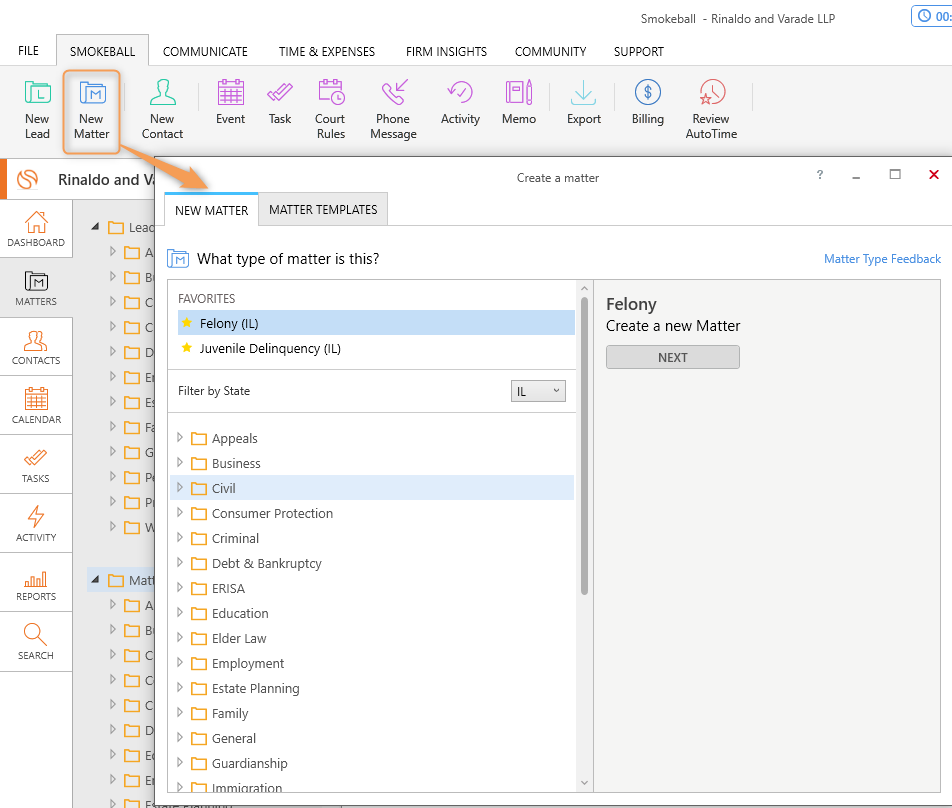 ---
Contacts Best Practices
Depending on your area of law, you can utilize our recommended practices when entering parties into a matter to optimize document creation.

You can add two separate parties on the same matter or add two parties tied together on a single contact.
---
Importing Files and Folders
While documents can be created directly in Smokeball, documents and folders created elsewhere can also be saved to your matters.
When you import folders, the current folder structure is maintained.
Use the Import button under the Matter tab or drag and drop files or folders into the documents section.
---
Blank Letter, Caption, and Forms & Templates
One of Smokeball's most powerful features is document creation with Microsoft Word. Smokeball is your place for all your proprietary templates and includes a robust library of existing forms and templates.
Blank Letter & Caption

Your firm's letterhead and court caption will be uploaded during configuration and used when generating documents.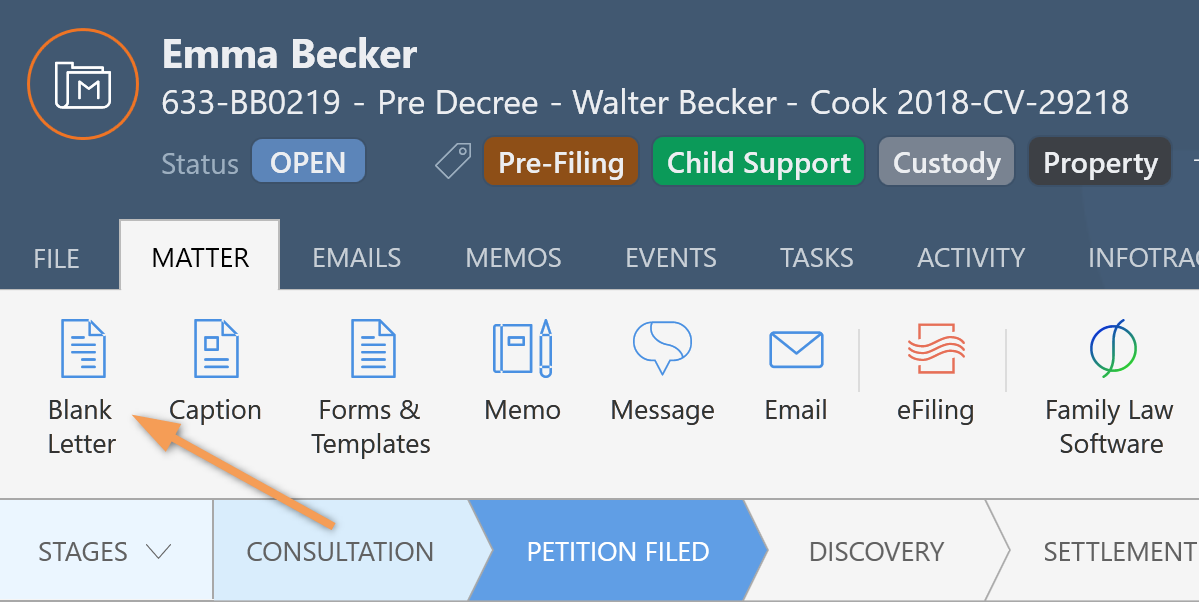 Forms & Templates

Library of templates and jurisdictional Court & Authority forms.
Generate forms as both Microsoft Word and PDF files.
Create shortcuts for commonly used forms and templates
Search for key forms and templates.

Send in requests for publicly available forms that are not already in the library.

Configure Form Suites in Smokeball Settings.
Learn more about the Forms & Templates Library.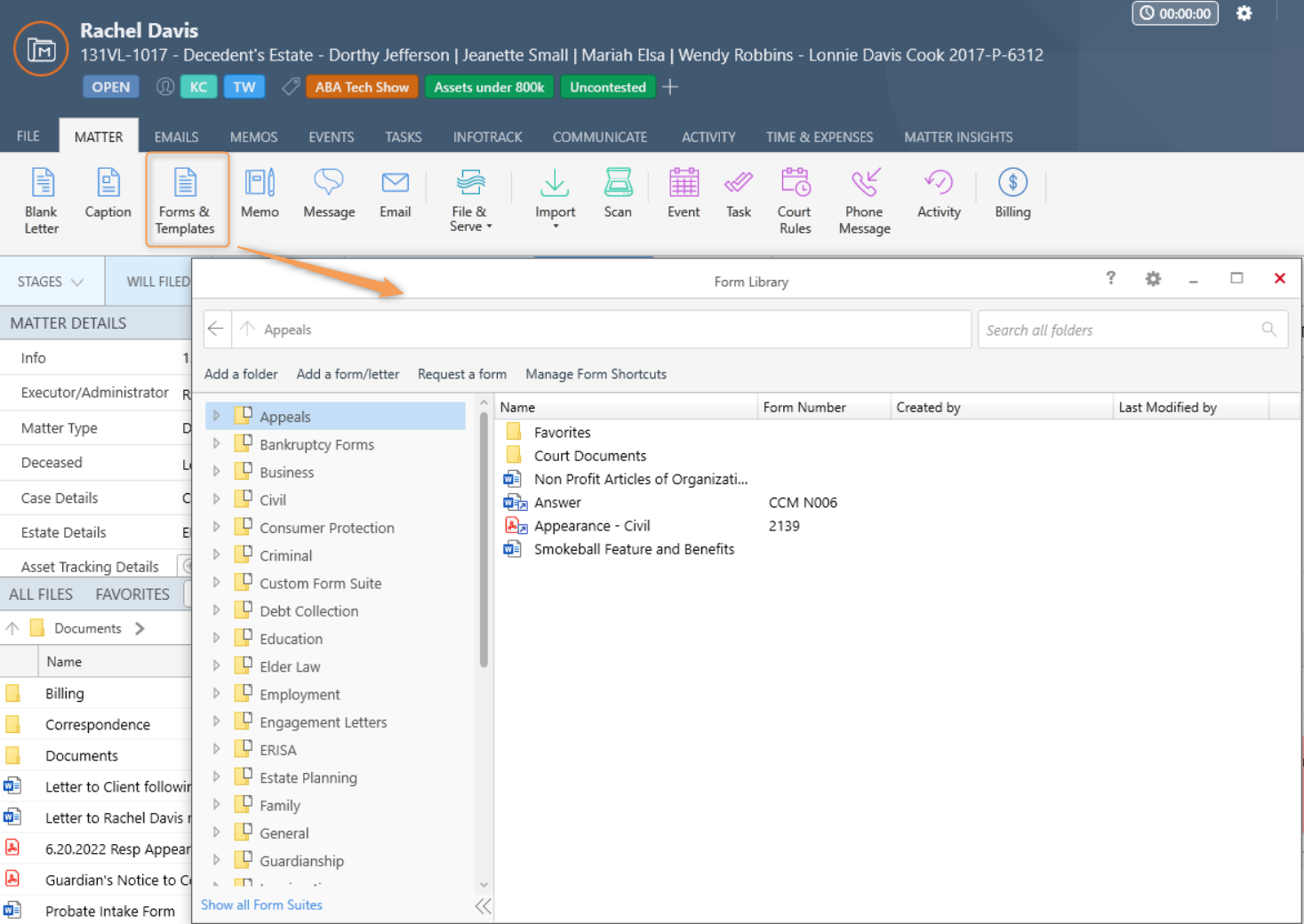 ---
Memos
You can also draft and save memos in Smokeball to account for matter work that previously may have been handwritten in a legal pad.
Use Memos for your phone call logs, deposition notes, discovery notes, record request logs, and many other notetaking tasks.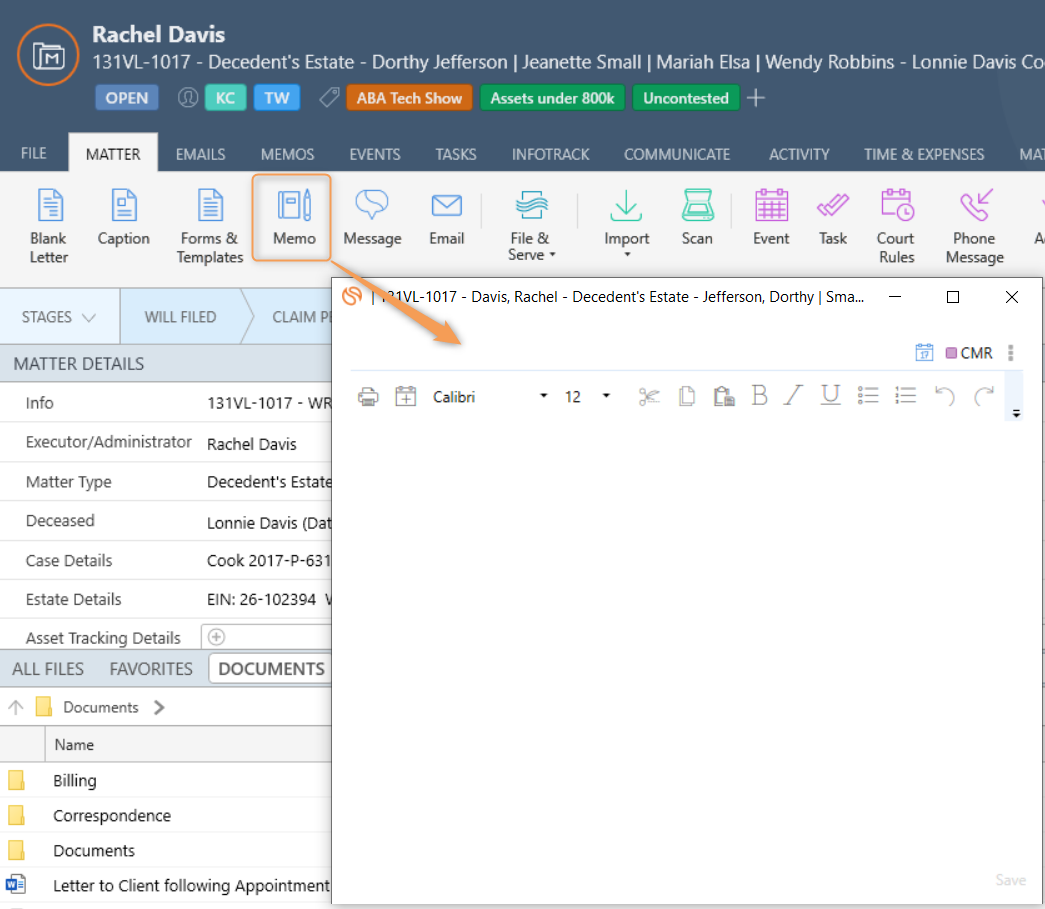 ---
Email Management
Smokeball's integration with Microsoft Outlook is another important core feature.
Emails originating from Smokeball are automatically assigned to the appropriate matter.
Assign your Outlook emails and attachments to your matter.
Manage, review, and find what you are looking for from the matter's email tab.
All time spent composing and reviewing emails is automatically tracked in Smokeball.
---
Additional Resources
Watch this video for a more in-depth look at Smokeball Basics.