Upon opening Smokeball, the first screen you should encounter should present the most important information to you at a glance. Learn how to customise this view.
The buttons on the left-hand side of Smokeball allow you to access various home screen views.

Set a view as default
To set one of the other views on the left panel as default so that they display upon opening Smokeball, right-click on the view icon and select Set as Default.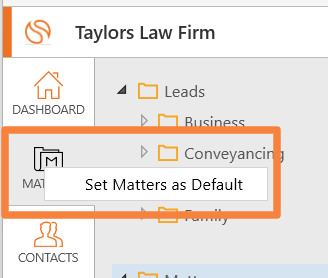 Use the Smokeball dashboard
If you're on Smokeball Prosper, your default home screen view will be the Dashboard, which summarises all your work and displays it on one screen using custom widgets.
Learn more about the dashboard and the types of widgets you can place on it.