Smokeball's Forms & Templates Library is one of the most important features to use in Smokeball.
Forms & Templates is where you will go to find all your proprietary templates, Smokeball templates, and all jurisdictional Court and Authority forms.
Smokeball can generate Forms and Templates in Word and PDF. If there is a publicly available form that is not already in Smokeball's Forms & Templates Library, send in a request for the form to be added.
Using Forms & Templates will save you time populating document and ensure accuracy and consistency across all staff members.
There's also no need to start and stop a timer to track time. Smokeball automatically tracks your time for billing and profitability reporting.
Access the Forms and Templates Library
From a Matter, click the Forms & Templates button on the Action Bar
Smokeball's Form & Templates will open in a new screen. If you are not seeing any Forms or Templates, make sure you subscribe to Forms & Templates in Smokeball Settings.

(1) Smokeball always opens to the most relevant form suite.

(2) You can search for a form or template by name or form number.

(3) Any forms in templates in the relevant form suite will show in your library.

You can browse through what is listed or double click "Court & Authority Forms" to use Smokeball's robust library for forms.

(4) You can also browse forms or jump folders using the ">>" at the bottom left of the screen.

(5) Use the Created by and Last Modified by columns to distinguish between your forms and documents created by other publishers.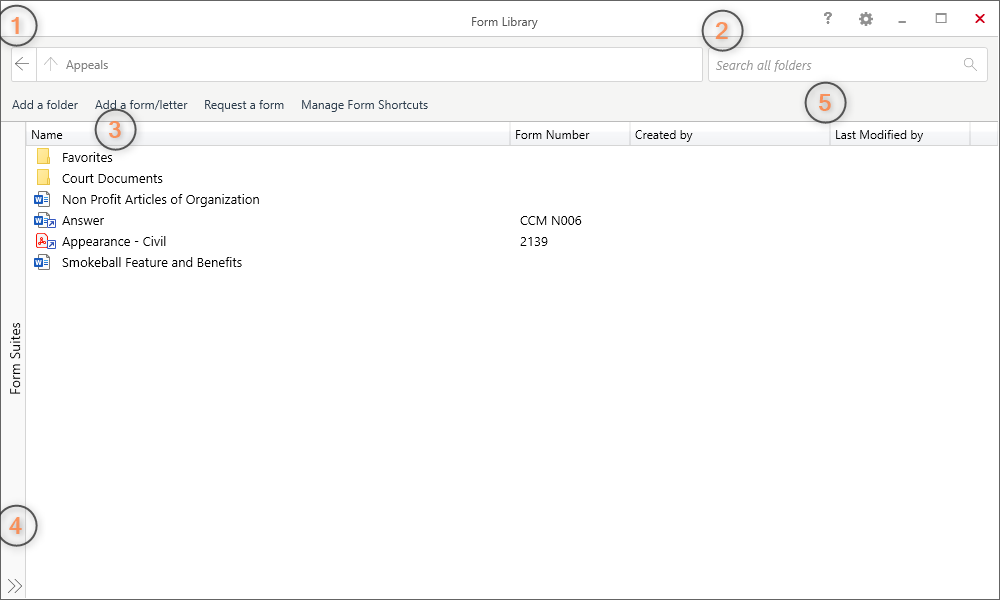 If you select the ">>," you can browse using the folder structure. Scroll down to see the Court & Authority Forms.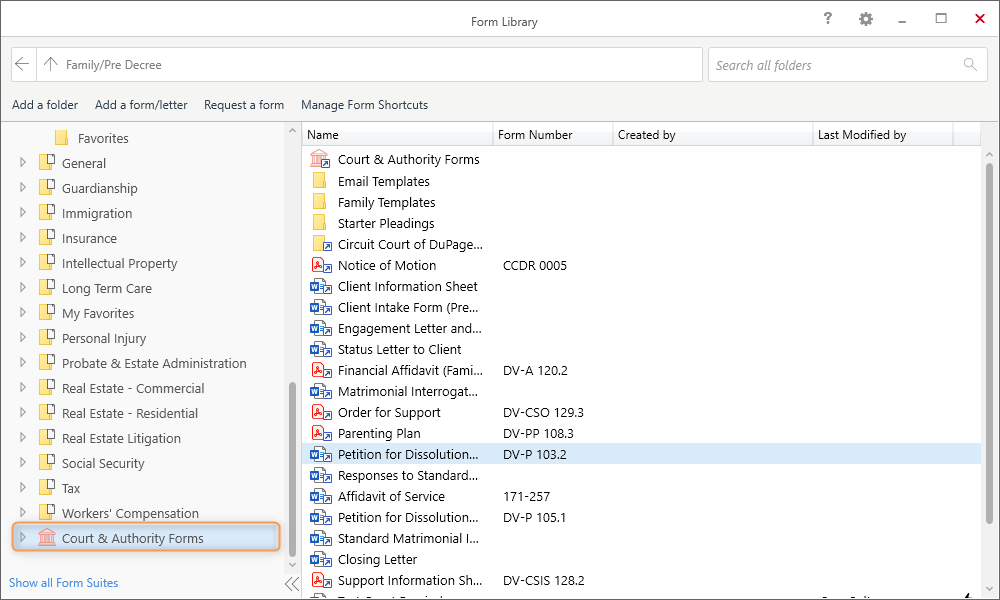 Right click is your best friend in Forms and Templates. Right click to see additional options for any form or template.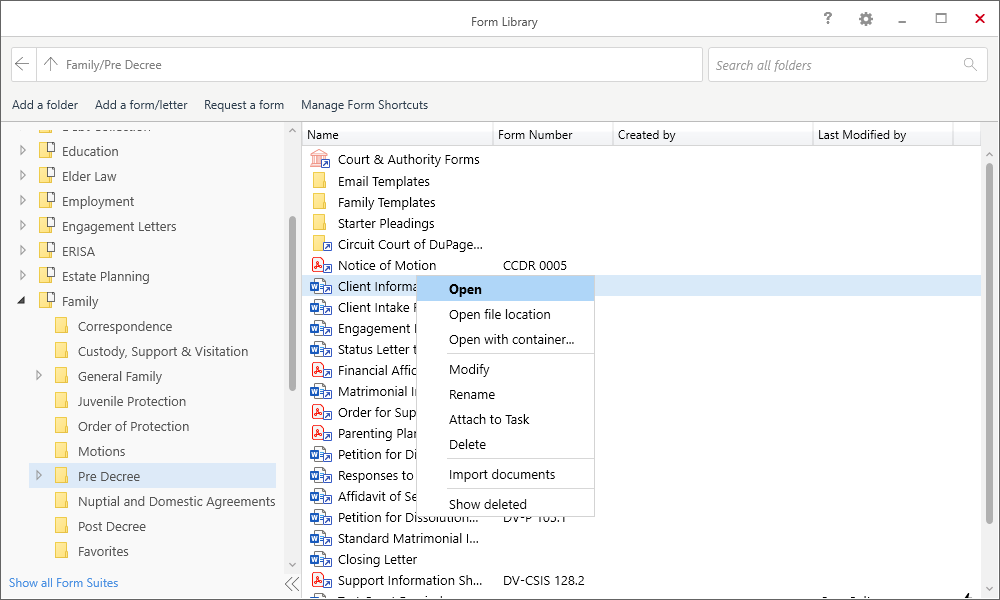 Did You Know
If prompted to use an updated form, always choose to use "Use the new version."

If you have modified a Smokeball created form and want to keep your changes, you may not want to update and you can view the changes prior to updating.
You can add additional folders to better organize important forms, add forms/letters, request a form, and manage form shortcuts.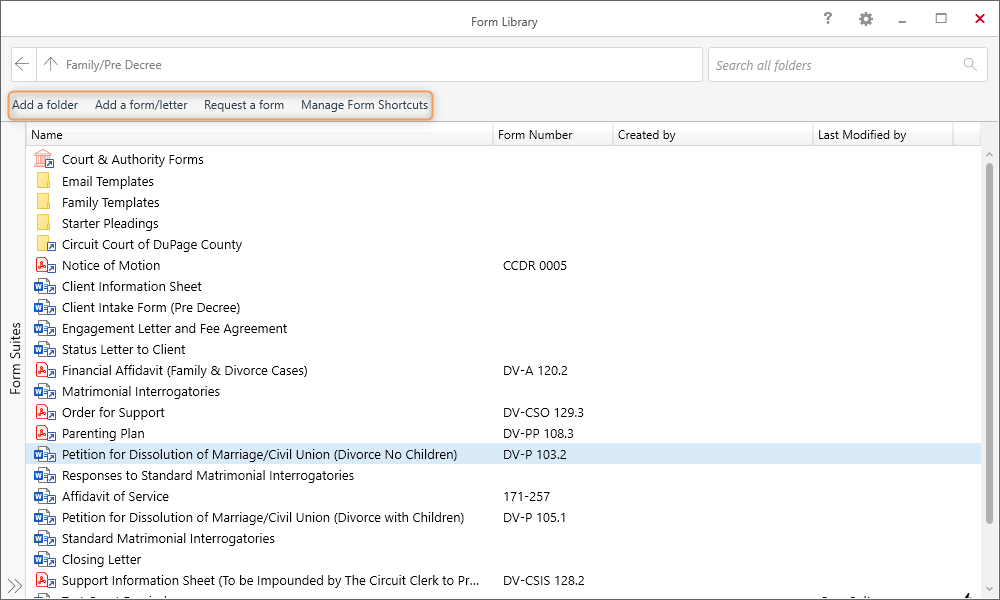 You can add shortcuts for court and authority forms to your folders to save time from searching or looking in the court and authority forms.
Smokeball's Form & Template Library includes the Judicial Council Forms and the local County Forms of California ready to use in the Court & Authority folder of the library.
Smokeball has Federal Forms available.

To enable Smokeball's Federal Forms, select FED in Form Suites Settings and select the appropriate form suites to enable.
Below are some of the Forms available.
US District Courts
US Federal Agencies

Central District of California
District of Colorado
Eastern District of California
Eastern District of North Carolina
Eastern District of Tennessee
Middle District of Florida
New York
Northern District of California
Southern District of California
Southern District of Florida
Southern District of Indiana
US District Court - Nationwide Forms
Western District of Washington

Internal Revenue Service
National Archives and Records Administration
Social Security
US Department of Health and Human Services
US Department of Labor
US Department of Treasury
US Department of Veteran Affairs
US Equal Employment Opportunity Commission
US Patent and Trademark Office

Your letter and other templates you submitted for Smokeball to automate as part of your initial onboarding process are also located in the default folders.
If you cannot find a specific template, get in touch with our help desk, your account manager, or check the "Favorites" folder in your Form/Letter Library.