Any action you take on Smokeball's Mobile App syncs with the Smokeball desktop app and Smokeball Billing.
The Mobile App is not a substitute for using Smokeball on your desktop as you cannot create documents. If you are looking for a complete application when you are on the go, we recommend purchasing a Surface Pro with the proper specifications for running Smokeball.
Download the app
The app is available on the Apple App Store and Google Play Store. Select the button below to download the app for your device:
Navigating the app
When you open the Mobile App, the Daily Digest will appear. This shows all calendar events, tasks due, and phone messages for today.
Select the

arrow at the bottom of the screen to get quick access to the key features of the Mobile App: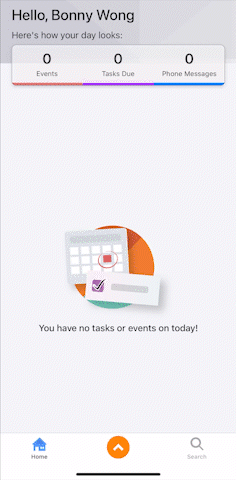 Under the Quick Add section, you can create a contact, event, expense, memo, task or time entry straight from the app.
Using search in the app
To search for contacts, events, leads, matters or tasks, select Search from the bottom of the app.

To narrow your search, each section in the app also has its own search bar with contextual filters:

Tip: Follow our Search best practices to quickly find anything you need.
Next Steps
Learn more about each feature in the mobile app: