There are several ways to enter your time or fixed fee entries in Smokeball Start. It is important to note that if you create an entry from the "+" in the upper left, you will need to specify the appropriate matter.
Time & Fees can be created and edited in Smokeball Start. This article demonstrates how to create Time & Fixed Fee Entries in all areas of Smokeball Start.
Time or Fixed Fee Entries in Smokeball Start
There are several places to review, enter, or edit time in Smokeball Start.
Select "New Time Entry" on your matter and complete the form to create your entry.

(1) Enter the date, duration, rate/fixed fee, and subject.
(2) Provide additional descriptions (optional).
(3) Review what the time entry will look like on an invoice on the right side of the window.
(4) Click "Save". The "Save & New" button can be used to enter several entries in succession.
You can also select "Time Entry" or "Expense Entry" from the list of quick actions.
For faster manual entry of time or fees, set up Activity Codes and use the quick actions button shown above.
If editing multiple entries, the best practice is to use the "Time Entry Review" panel.

Select "Time Entry Review" to expand the panel.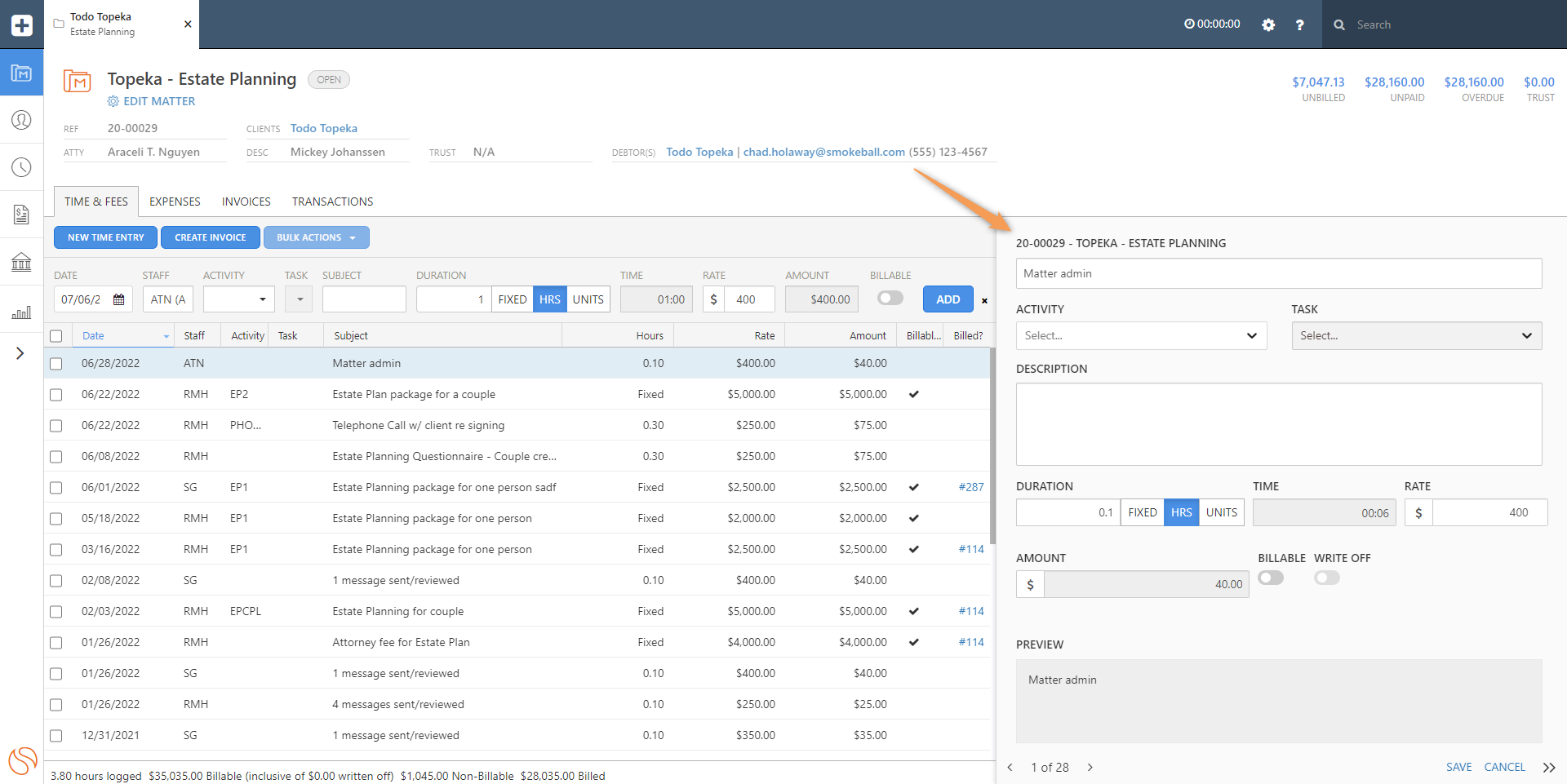 If you need to select multiple items as billable or non-billable, use the checkboxes to individually select the time/fee entries (1) and use the Bulk Actions button to apply the changes (2).
There is also a select all checkbox at the top of the table (3).
NOTE: This bulk action is also available for expense entries.

---
Did You Know?
You can add last-minute time and fixed fee entries when creating a draft invoice.